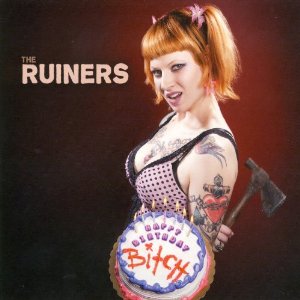 The Ruiners / Happy Birthday Bitch / NEW CD 2010 Review here
The Ruiners – How's That Grab Ya?
(The Ruiners-Disaster Records)
I ordered this CD through a local record store and have to say that anyone who is a fan of vampy punk rock should take whatever action needed to get your hands on this CD. From start to finish this CD is a true punk rock GEM. My personal favorite songs are "70's Divorce", "Beg", and "Vampire Dating". Be sure to let the CD keep on playing far into the last song for a special suprise.
1/3/06
Since this review I've had this CD in my Jukebox every since I got it and can say without a shadow of a doubt that it is one of the best all around cd's that I own. Pure campy punk.
3/19/17
Awww dammit baby you would have loved these new ones from the Ruiners! ~mc
Very Zombie Elvis Deathride!
VIVA LA VULVA BMF! January 2016 – you could have played Elvis my love – mc.