BMF FOR DUANE PETERS
Jeff thought Duane Peters was the shiznet. The Master of Disaster. He related to Duane and his ways to his own ways. His idolization of Duane came from Duane's hardcore lifestyle and how he expresses himself with an original and aggressive musical style that Jeff appreciated. Duane lives with demons and Jeff lived with his own. Duane had skating and Jeff had motocross. Duane's number is "61" and Jeff's number is "57". There were a lot of reasons Jeff was drawn to Duane.
Duane is a man of many talents. Duane designed shoes and clothes and Jeff purchased many items from Duane's collection. One of his last purchases was a shirt Duane had personally designed. Jeff bought it planning to wear it to a February 2016 Nashville Pussy, Unknown Hinson show in Atlanta. Sadly he never made it to the show because he was too weak to stand for long periods of time. He tried to hide it by making a lot of excuses but I knew why. He never wanted anyone to feel sorry for him so he just kept to himself. Jeff would never get to wear the shirt and it's still hanging crisp and new. I love seeing it every day because it reminds me of him.
Jeff first discovered Duane Peters in November of 2002 while downloading music on WINMX.  He was hooked. His downloads included: US Bombs – Yankees and Confederates, US Bombs – The World, US Bombs – Jaks, Hunns – LA, and  Hunns – Wildcard. I'm sure he still has all these songs with hundreds of others stashed on his computers, on burned CDs and on his treasured Olive Musica. Later he would buy all the CDS and vinyl. He treasured all the music. He played some piece of Duane's music almost every day and included at least one of Duane's various identities on any BMF playlist.
At some point Jeff connected with Duane and Duane started sending him music pre-release for a BMF review. Jeff did not disappoint and published his reviews on MusicFilter. Duane included MusicFilter's reviews on his websites. Jeff promoted Duane's music at every turn. Jeff communicated with Duane off and on through the years and enjoyed following Duane's antics on Twitter. I doubt Duane knows of Jeff's demise. I think he's been going through his own life issues.
Jeff eventually met Duane Peters when the US Bombs traveled to Atlanta on 5/23/06 to play a show at a local venue. This was highly anticipated by Jeff and possibly the punkest of all the punk shows we had attended and that's saying a lot considering all the music we experienced together. It was a very intimate setting and the other people there were hardcore fans like Jeff. Jeff would say it was the best show he had ever been to and I was happy because he was so happy meeting Duane and the other guys in the band. He was able to spend some great time with this band and definitely was amongst his kind of people at this show.
1/15/17 – MC is updating this page while watching the Jeff's Kansas City Chiefs lose to the Steelers in a bid for the 2017 Superbowl. He would say well shit maybe next year. Kansas City Chiefs fans will understand the sentiment.
But as for Duane Peters, BMF can say the rest in his own words:
06/11/02 – Corey Parks and Die Hunns. (ok these are still my words but BMF influenced it.)
04/27/03 – Three Great Songs by the Hunns
07/09/03 – Duane Peters has a movie about his bad self…
02/14/06 – US Bombs – We Are The Problem – New Release
05/23/06 – US Bombs @ Vinyl in Atlanta, Ga. – Show Review and Photos
07/18/09 – US Bombs Tumblr(by BMF)
01/02/12 – Duane Peters – Listen to Guns, Drugs & Money (from the Great Unwashed – vinyl coming)
01/11/12 – Duane Peters and the Great Unwashed (vinyl)
01/19/12 – Duane Peters Fender Guitar (BMF received this limited edition guitar as a Xmas gift from Miss Chicky) – Legendary old-school skateboard master Duane "Master of Disaster" Peters, lead singer of infamous Orange County punk outfit U.S. Bombs, let loose with the decidedly distinctive design of this exclusive limited edition Sonoran SCE model (only 500 instruments worldwide, period). We're talking custom graphic finish with skulls and red and black stripes-pure Duane Peters, in other words. More about this guitar.
08/23/12 – Duane Peters Blackout – Watch
08/30/12 – Die Hunns to reunite?
12/5/12 – Duane Peters Gunfight Punk as Fuck
12/16/13 – US Bombs Touring Again
; Sweet Home Costa Mesa,
Where the Chem-trails Smell
Of Glue – who? who? who?
Sweet Home Alabama , Got Scraps on the Fire & Cakes on the Griddle – Life ain't nothin but a Sunny Funny Riddle …….
Thank God I'm a Country boy !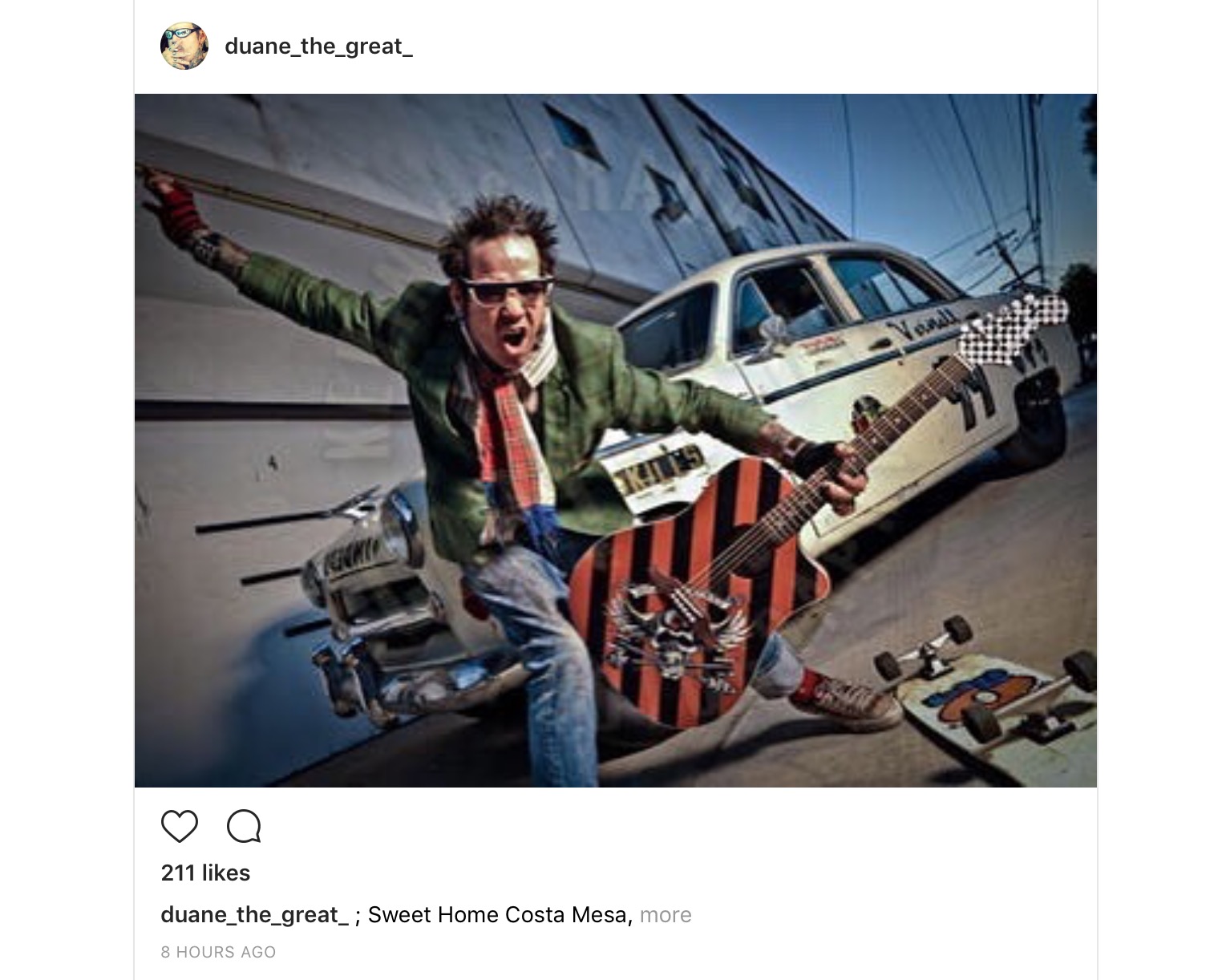 @bagdrease @sloperecords
x x
Costa Mesa, Where the Chem-trails Smell Of Glue – who? who? who? Sweet Home Alabama , Got Scraps on the Fire & Cakes on the Griddle – Life ain't nothin but a Sunny Funny Riddle ……. Thank God I'm a Country boy! @duane_the_great_
The FENDER® Sonoran SCE Duane Peters limited edition acoustic-electric guitar is a thinline dreadnought that Skate legend and punk-rock singer Duane Peters designed with custom graphics and Fishman electronics. Only 500 of these special guitars were made. Check out the headstock on this one – it's the same shape as Fender's iconic Stratocaster®, so you've got a unique-looking acoustic guitar that's going to draw some looks. Also cool, the custom graphics feature skulls and black and red stripes, capturing the intensity of Duane Peters himself. Designed in the style of Duane Peters, singer for Orange County punk rockers U.S. Bombs.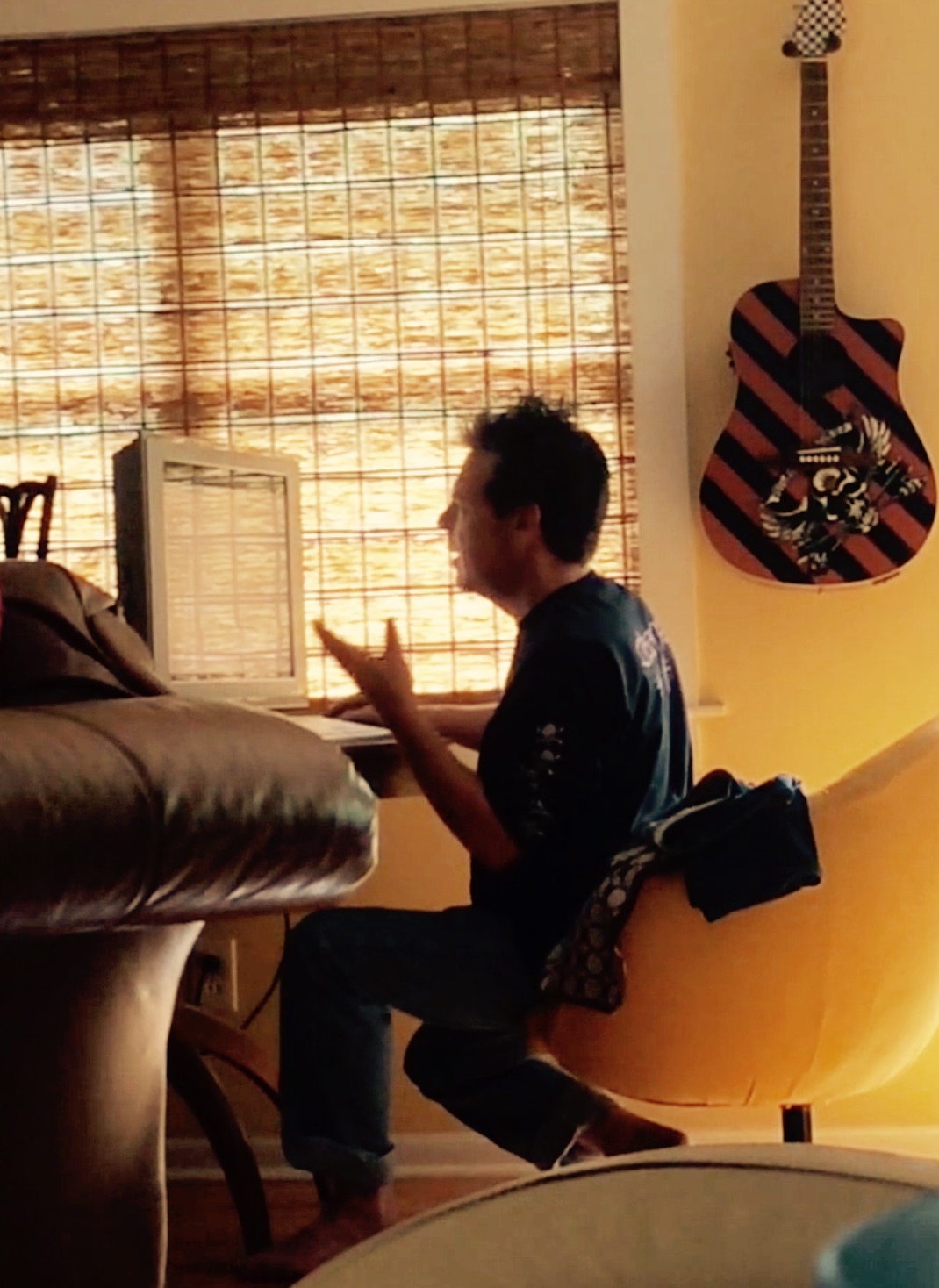 BMF owns a few guitars but this Duane Peters special is his prize.